Test #001: Reducing Friction on The Product Page

PARTNER: TED'S BRAIN SCIENCE PRODUCTS
COMPANY TYPE: PAIN RELIEF-HEALTHCARE, ECOMMERCE
EXPERIMENT QUESTION: IF WE REDUCE SECONDARY LINKS ON OUR PRODUCT PAGE, AND RE-POSITION OUR CONTENT INTO A SINGLE-COLUMN, CAN WE INCREASE THE 'ADD-TO-CART' RATE?
Introduction:
Ted's Brain Science Products is a Dallas-based healthcare company that specializes in developing pain relief solutions. They found that two natural ingredients–methyl salicylate from the wintergreen plant, and resveratrol from grape leaves or Japanese knotweed–appear to work together in a brand new, previously unknown way. There flagship product, Ted's Pain Cream, is the first of it's kind.
After doing a full website analysis, we found that their product page 'Add-to-Cart' conversion rate had room for improvement. This was especially true when we isolated traffic coming from their online advertising channels. A good portion of traffic was clicking away before reaching the checkout process. So we asked: If we reduced the number of secondary links on the page, while re-positioning our content into a single-column, can we increase the 'Add-to-Cart' rate?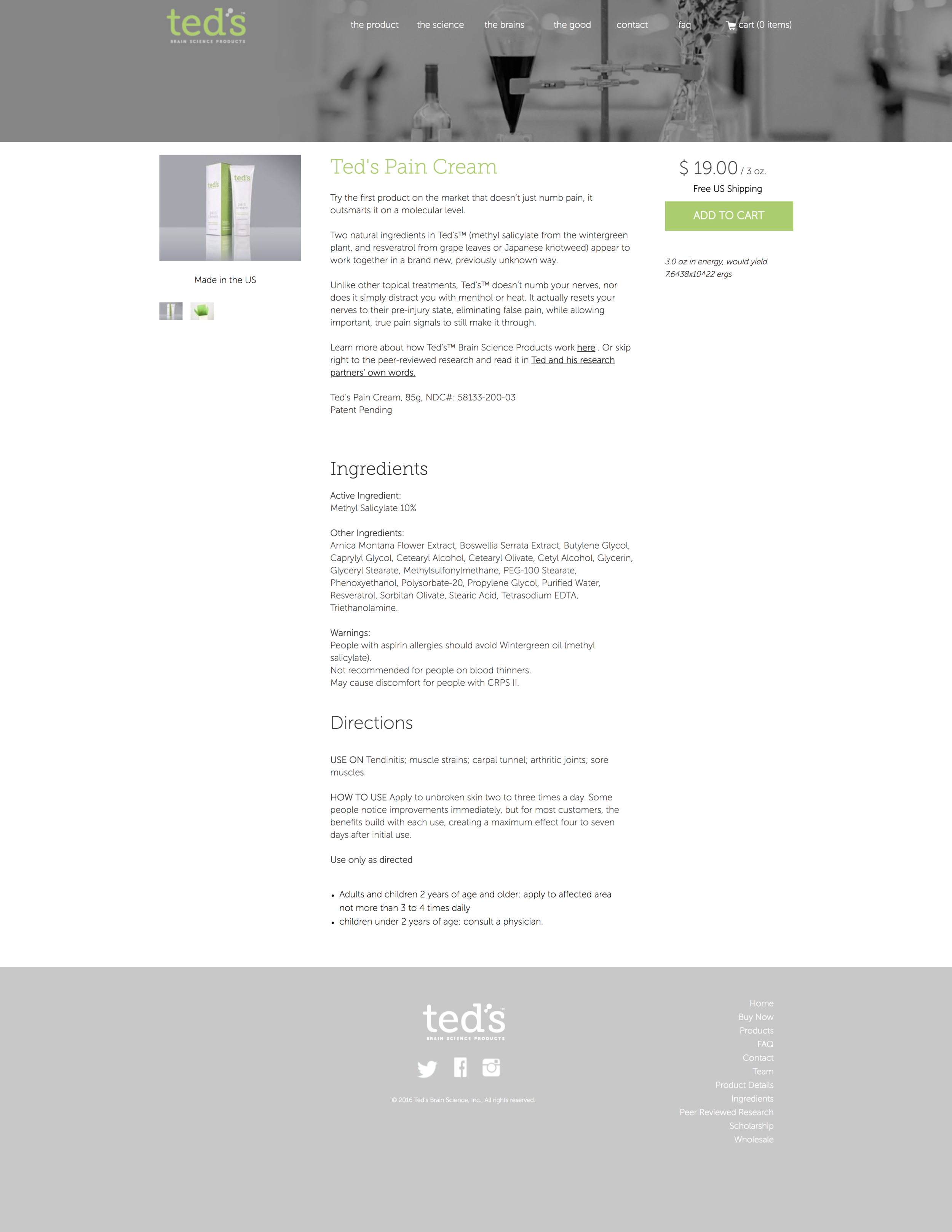 This was the existing control 'Product' page for Ted's Pain Cream. As you can see, it contains a main navigation and a secondary navigation in the footer. You will also notice that this version contains a 3-column layout. Here are the results observed for the control page:
Control: 457 visitors, 23 conversions (5.03% Add-to-Cart Rate)
This is the treatment version of the same 'Product' page. We removed nearly all of the secondary links that lead to other places on the site. We also reduced the layout from 3-columns to just a single column. here are the results observed for the treatment page:
485 visitors, 38 conversions (7.84% Add-to-Cart Rate)
RESULT:VALID; 55% INCREASE IN CONVERSION
Analysis:
After crossing the 95% confidence threshold, we found that the treatment page had a statistically significant increase of 55% in 'Add-to-Cart' conversion. So what happened?
First, it's likely that the lack of secondary navigational links helped 'plug' some of the leaks the control page was experiencing. Our treatment version experienced nearly ~0% 'secondary' link clicks by page visitors. It's important to remember that if we want the user to take certain action, we need to reduce as many secondary actions as possible, without ruining the integrity of the page.
Second, it's also likely that the column rearrangement (3-column to 1-column) reduced friction from the user's eye-path. In other words, the user was able to view and consume all of the content in one continuous motion that led to the 'Add-to-cart' Button. On the control page, the user's eyes had to bounce from images of the product, to information about the product, to finally, the 'Add-to-cart' button. This is a lot of eye movement, and likely led to some drop-off in concentration.
Finally, it's possible that displaying the product more prominently reduced friction for the visitor. Instead of having to hover or click over an image of the product to get a closer look, they were immediately shown the product as the focal point of the page. For users coming from advertising channels that often rely on visual experiences for engagement (like Instagram and Facebook), this treatment page matched the expectation.
Concluding thoughts:
As you build and test your product pages, remember that offering too many 'click' options can distract people and pull them away from making a commitment. In our digital world, we tend to click on links that are made available to us. By limiting those, we can help guide highly motivated people through our funnel more effectively.
Also - consider simplifying your page to a single column. This can enhance the user's experience by limiting their necessary eye movement, especially on a mobile device.