Test #017: How Discount Offers Increase Incentive and Urgency

PARTNER: TED'S BRAIN SCIENCE PRODUCTS
COMPANY TYPE: PAIN-RELIEF, HEALTHCARE, ECOMMERCE
EXPERIMENT QUESTION: IF WE HIGHLIGHT A DISCOUNT OFFER IN OUR ADVERTISEMENT, CAN WE INCREASE OUR ECOMMERCE CONVERSION RATE?
Introduction:
Ted's Brain Science Products is a Dallas-based healthcare company that specializes in developing pain relief solutions. They found that two natural ingredients–methyl salicylate from the wintergreen plant, and resveratrol from grape leaves or Japanese knotweed–appear to work together in a brand new, previously unknown way. There flagship product, Ted's Pain Cream, is the first of it's kind.
Ted's Brain Science Products is preparing for the launch of it's newest product: Ted's Pain Gel. They decided to run a pre-launch campaign in order to gauge interest in this product. When designing their facebook ad, they wondered if highlighting their limited time discount offer would encourage people to complete their pre-order right away. They created a treatment ad and asked: Will a discount offer headline increase urgency and incentive for the potential customer?
This was the control version of the 'prelaunch' advertisement. Here are observed results:
Control: 359 people clicked through, 33 purchases (9.19% eCommerce Conversion Rate)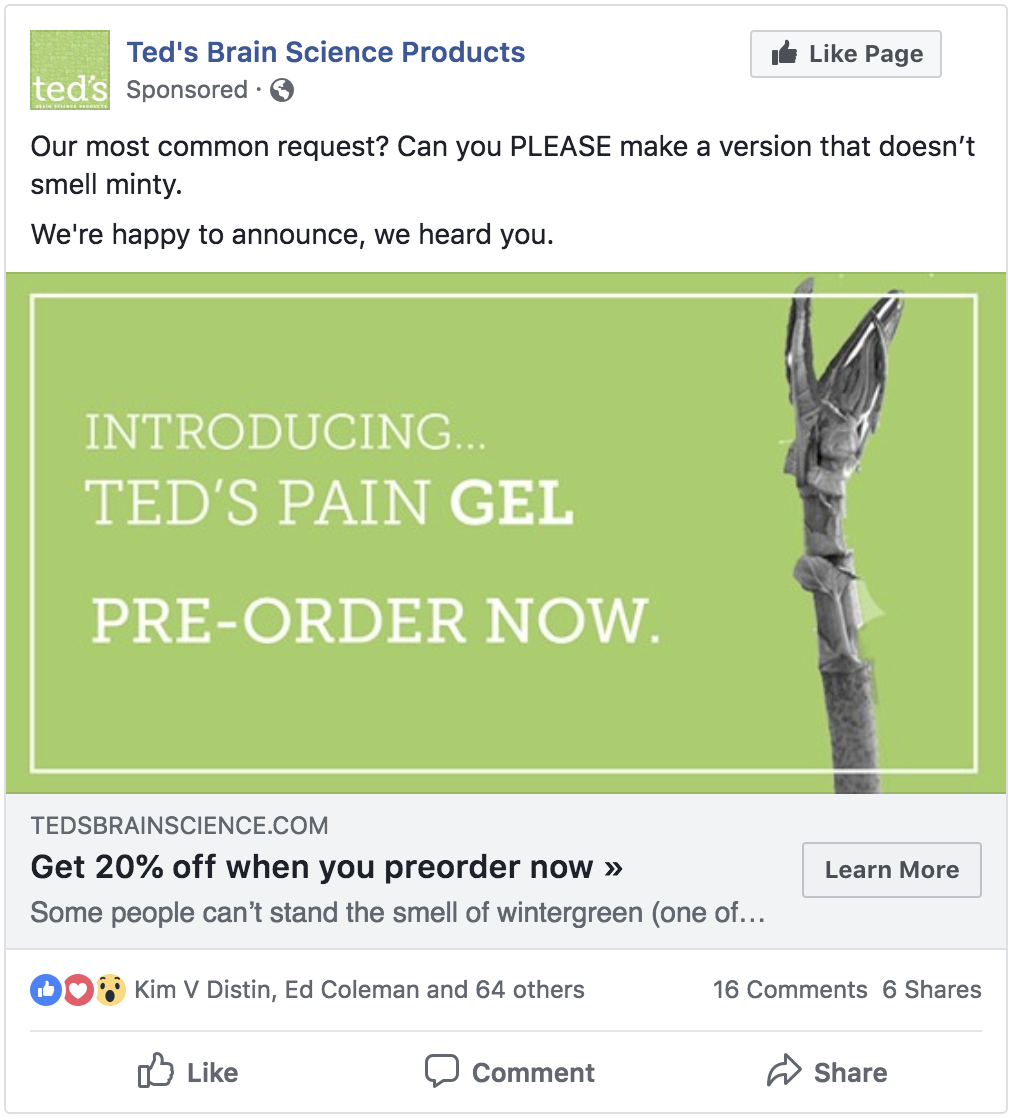 This is the treatment version of the prelaunch advertisement. You'll notice that everything is the same except the Main Headline, which reads "Get 20% Off When You Preorder Now »". Here are the observed results:
506 people clicked through, 86 purchases (17.0% eCommerce Conversion Rate)
RESULT:VALID; 84.9% INCREASE IN ECOMMERCE CONVERSION RATE
Analysis: 
This experiment crossed the 95% confidence threshold, showing a statistically significant 85% increase in eCommerce Conversion Rate.
It's clear that the '20% Off' discount language did dramatically increase incentive to pre-order right away. Consequently, we see a parallel increase in eCommerce conversion rate. 
Concluding thoughts: 
When a company launches a new product, it's regular users are going to be highly motivated 'first-adopters' of the newest product they offer. Likewise, first-time visitors who see a 'Pre-Order' offer will generally perk up and inspect the product that is being offered, since it is new. This test is a good example of how offering the right discount at the right time can make a big impact on a user's purchase decision.