Test #020: How Page Layout Impacts Friction and Conversion

PARTNER: TED'S BRAIN SCIENCE PRODUCTS
COMPANY TYPE: PAIN-RELIEF, HEALTHCARE, ECOMMERCE
EXPERIMENT QUESTION: IF WE LAYOUT OUR EBOOK 'THANK YOU' PAGE SIMILAR TO OUR MARKETING PRODUCT PAGE, CAN WE REDUCE FRICTION AND INCREASE OUR ECOMMERCE CONVERSION RATE?
Introduction:
Ted's Brain Science Products is a Dallas-based healthcare company that specializes in developing pain relief solutions. They found that two natural ingredients–methyl salicylate from the wintergreen plant, and resveratrol from grape leaves or Japanese knotweed–appear to work together in a brand new, previously unknown way. There flagship product, Ted's Pain Cream, is the first of it's kind.
Ted's Brain Science Products launched an eBook content offer earlier this year titled, "A New Way to Approach Pain." Individuals who choose to download their free copy of this eBook are led to a 'Thank You' page where they have the opportunity to buy Ted's Pain Cream. We wondered: If we layout this 'Thank You' page in a similar manner to our marketing product page, can we reduce friction and increase our eCommerce conversion rate?
This was the control version of the eBook 'Thank You' page. You'll notice that we (1) acknowledge that the recipient is receiving their free eBook now, as promised, and (2) give an opportunity to try the product. Here are observed results:
Control: 617 visits, 44 Add-to-Carts (8.14% eCommerce Conversion Rate)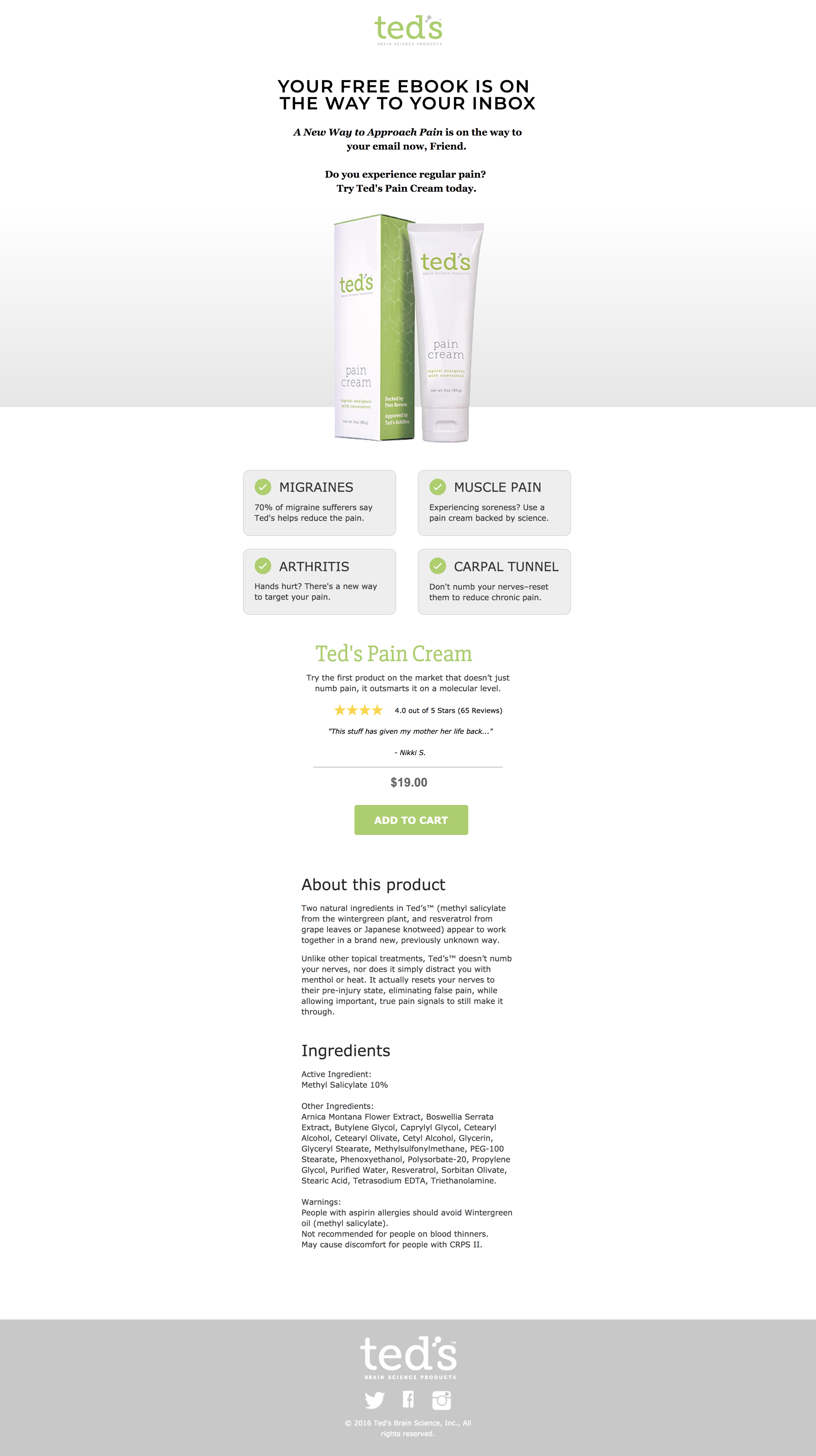 This is the treatment version of the eBook 'Thank You' page. This page is modeled after a previous marketing product page that we found improved 'Add-to-Cart' rate. Here are the observed results of this page:
438 people clicked through, 20 Add to Carts (4.57% eCommerce Conversion Rate)
RESULT:INVALID TEST RESULTS
Analysis: 
This experiment did not cross the 95% confidence threshold, and therefore, did not show a statistically significant result.
It's apparent that by changing the page layout, we weren't able to significantly reduce the friction of the 'Thank You' page.
Concluding thoughts: 
It's important to test previous 'wins' in other parts of your marketing funnel before widely implementing them. Sometimes, they will show similar or even bigger improvements in conversion. Sometimes, like we see hear, there is no significant change in conversion.