Experiment #003: Driving Engagement - What Works Best?

PARTNER: WATERLOO SPARKLING WATER
COMPANY TYPE: FOOD & BEVERAGE, IN-STORE
EXPERIMENT QUESTION: If we focus our digital ad on 'store' availability with matching in-store imagery, rather than a product-centric ad with polished imagery, can we increase engagement rate?
Introduction:
Waterloo Sparkling Water is an Austin-based beverage company that produces zero calorie, naturally-flavored sparkling water. Named for the 1830s-era Texas village that would later become Austin, Waterloo has gained national attention and demand (outperforming LaCroix in various taste tests).
As Waterloo prepared for one of their national store launches, they decided to directly target people in or near those stores with a reminder that they were 'now available.' They wondered: Will a digital ad focused on 'store' availability with matching in-store imagery drive more engagement than a product-centric ad, with professional imagery?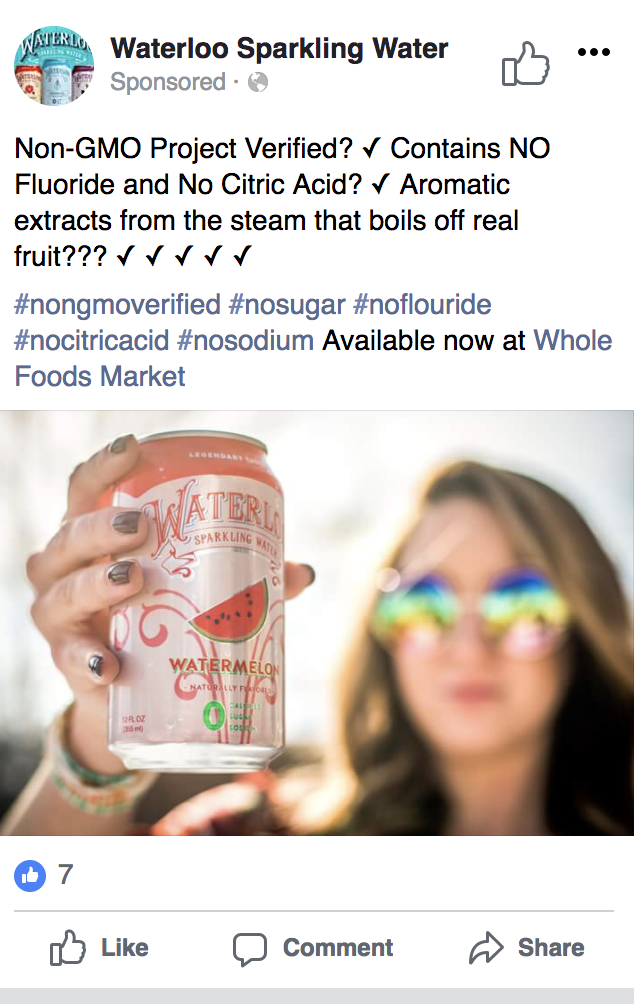 This 'control' version contains the professional imagery Waterloo has used throughout their product launch. Though there is a female holding up the can, the focal point is the product itself. This is reinforced by the ad copy that touts the health benefits of the product.
Control: 311,163 people reached, 515 actions (0.17% Action Rate)
This treatment version contains a more 'organic' looking image of the product in the store, likely taken from a smart phone. The ad copy echoes this look by referring to the specific location of the product (i.e. San Francisco).
331,325 people reached, 742 actions (0.22% Action Rate)
RESULT:VALID; 35.3% INCREASE IN Engagement
Analysis:
This experiment reached ~640,000 individuals and came to completion at a 99% confidence level. These results are important for a handful of reasons.
First, it's apparent that the 'in-store' messaging and creative approach increased the force of Waterloo's value proposition. By highlighting the product's accessibility with a hyper-targeted audience (individuals within 5 miles or less of each of these stores), Waterloo was able to increase the relevancy of their advertisement.
Secondly, it's possible that these individuals found the 'in-store,' organic imagery of the store shelves more authentic. This imagery was less polished and felt more like an image you or I would have snapped to send to a friend. This, in turn, may have reduced anxiety and built a level of trust before even reading the ad copy–simply because it wasn't staged.
Concluding thoughts:
In this case, it appears that stressing the local nature of the product, rather than it's health benefits, provided the best path for engagement. However, that is no 'golden rule.' Since these individuals were targeted based on their location, not their health interests or behaviors, it stands to reason that an advertisement stressing the locality of the product would win the day.
This is important to remember too: As online consumers, we're often sensitive to professional photography due it's prevalence in online marketing. This is especially true on social channels, where we're used to consuming content created by our friends and family. Sometimes stepping away from the 'studio shot' in exchange for a smartphone photo can pay off.