Test #004: Reducing Anxiety During the Checkout Process

PARTNER: TED'S BRAIN SCIENCE PRODUCTS
COMPANY TYPE: PAIN RELIEF-HEALTHCARE, ECOMMERCE
EXPERIMENT QUESTION: IF WE ADD A SECURITY BADGE TO THE CHECKOUT FUNNEL, CAN WE REDUCE ANXIETY AND INCREASE ECOMMERCE CONVERSION RATE?
Introduction:
Ted's Brain Science Products is a Dallas-based healthcare company that specializes in developing pain relief solutions. They found that two natural ingredients–methyl salicylate from the wintergreen plant, and resveratrol from grape leaves or Japanese knotweed–appear to work together in a brand new, previously unknown way. There flagship product, Ted's Pain Cream, is the first of it's kind.
As we began to review the checkout funnel for Ted's Pain Cream (single-pack), we noticed that there was no 'security' transaction symbol found. We wondered: Will the addition of a 'Shopify' checkout badge reduce the anxiety of individuals who are making a purchase and increase eCommerce conversion?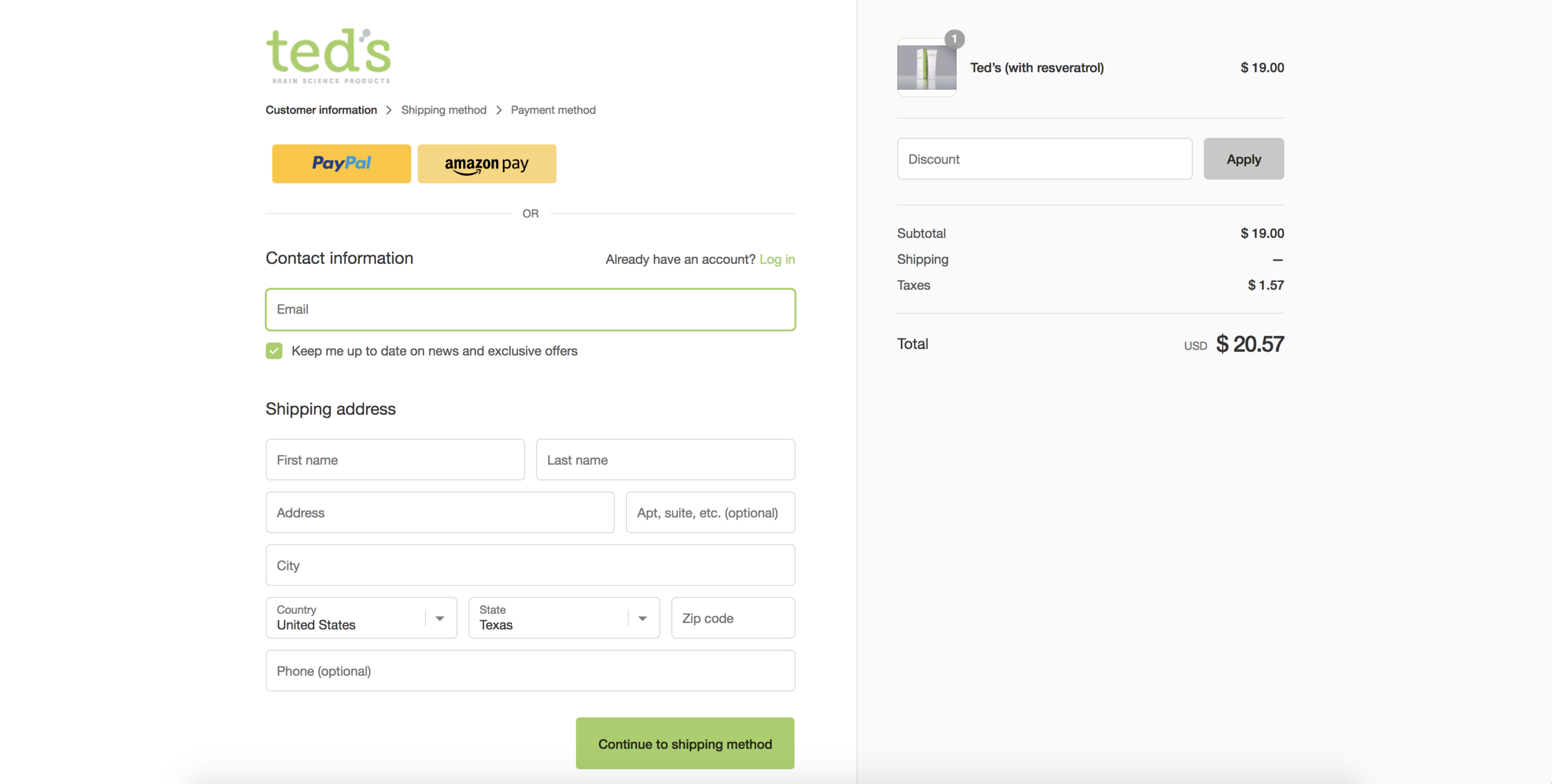 This was the control 'Checkout' page for Ted's Pain Cream. This template uses a two-column format and contains no security badges. Here are the results observed for the control page:
Control: 118 Sessions, 69 Conversions (58.1%)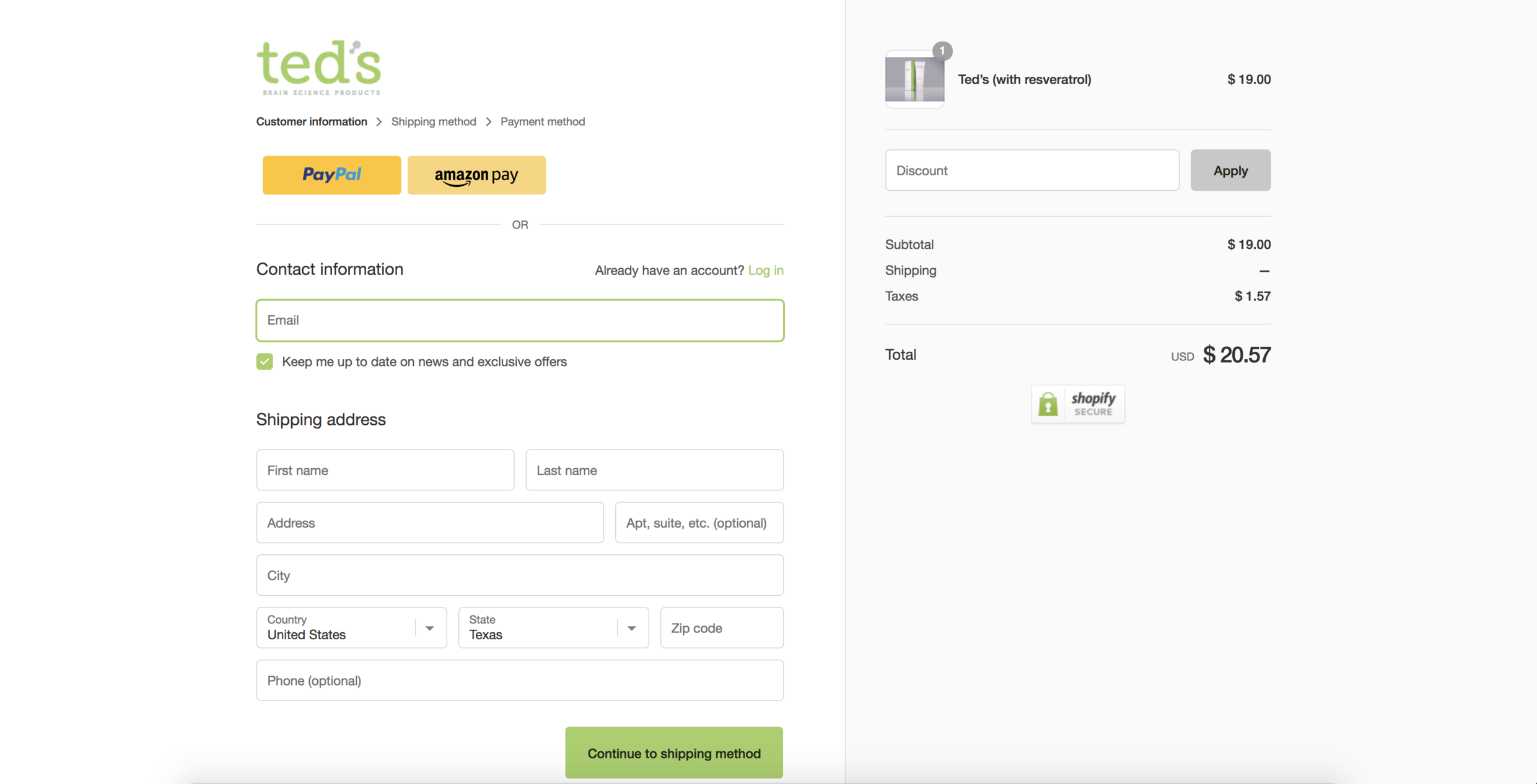 This is the treatment version of the same 'Checkout' page. You'll notice only a small variation in design with the addition of the 'Shopify Secure' badge on the right hand side. Here are the results observed for the treatment page:
Treatment: 133 Sessions, 94 Conversions (70.4%)
RESULT:VALID; 20.8% INCREASE IN ECOMMERCE CONVERSION RATE
Analysis:
After crossing the 95% confidence threshold, we found that the treatment page had a statistically significant increase of 20% in eCommerce conversion rate. Can this small of change really account for this difference?
Yes, it can. There were no other adjustments made to this checkout treatment page, so we have to conclude that the increase was due to the addition of the security badge. It's clear that user's in Ted's checkout funnel had a strong desire to feel secure when completing their checkout process. Some of these customers were first-time buyers and likely only heard about Ted's Pain Cream recently. The addition of the 'secure' badge reduced anxiety in users, and led to them following through with their original purchase intent.
Concluding thoughts:
It's important to remember that the checkout process is a crucial area for testing. Individuals who have reached the checkout page are not 'guaranteed' customers. In fact, this is the area that likely needs the most reassurance throughout the entire marketing funnel. So be sure to consider reminding your potential customers that you can, in fact, be trusted–and that you are doing what you can to keep their information secure.