Test #016: Decreasing Anxiety and Friction on the Homepage

PARTNER: TED'S BRAIN SCIENCE PRODUCTS
COMPANY TYPE: PAIN RELIEF-HEALTHCARE, ECOMMERCE
EXPERIMENT QUESTION: IF WE ADJUST OUR HOMEPAGE MESSAGING AND IMAGERY, CAN WE INCREASE ECOMMERCE RATE?
Introduction:
Ted's Brain Science Products is a Dallas-based healthcare company that specializes in developing pain relief solutions. They found that two natural ingredients–methyl salicylate from the wintergreen plant, and resveratrol from grape leaves or Japanese knotweed–appear to work together in a brand new, previously unknown way. There flagship product, Ted's Pain Cream, is the first of it's kind.
Ted's Brain Science Products directs a lot of traffic directly to the homepage–both in organic and paid advertising efforts. They wondered if they could increase their eCommerce conversion rate for these visitors by making some tactical changes to the homepage, especially above the fold. So they introduced a couple of new elements and asked: Will adjusting our homepage imagery and messaging reduce anxiety, increase the force of the value proposition, and as a consequence, increase eCommerce conversion rate?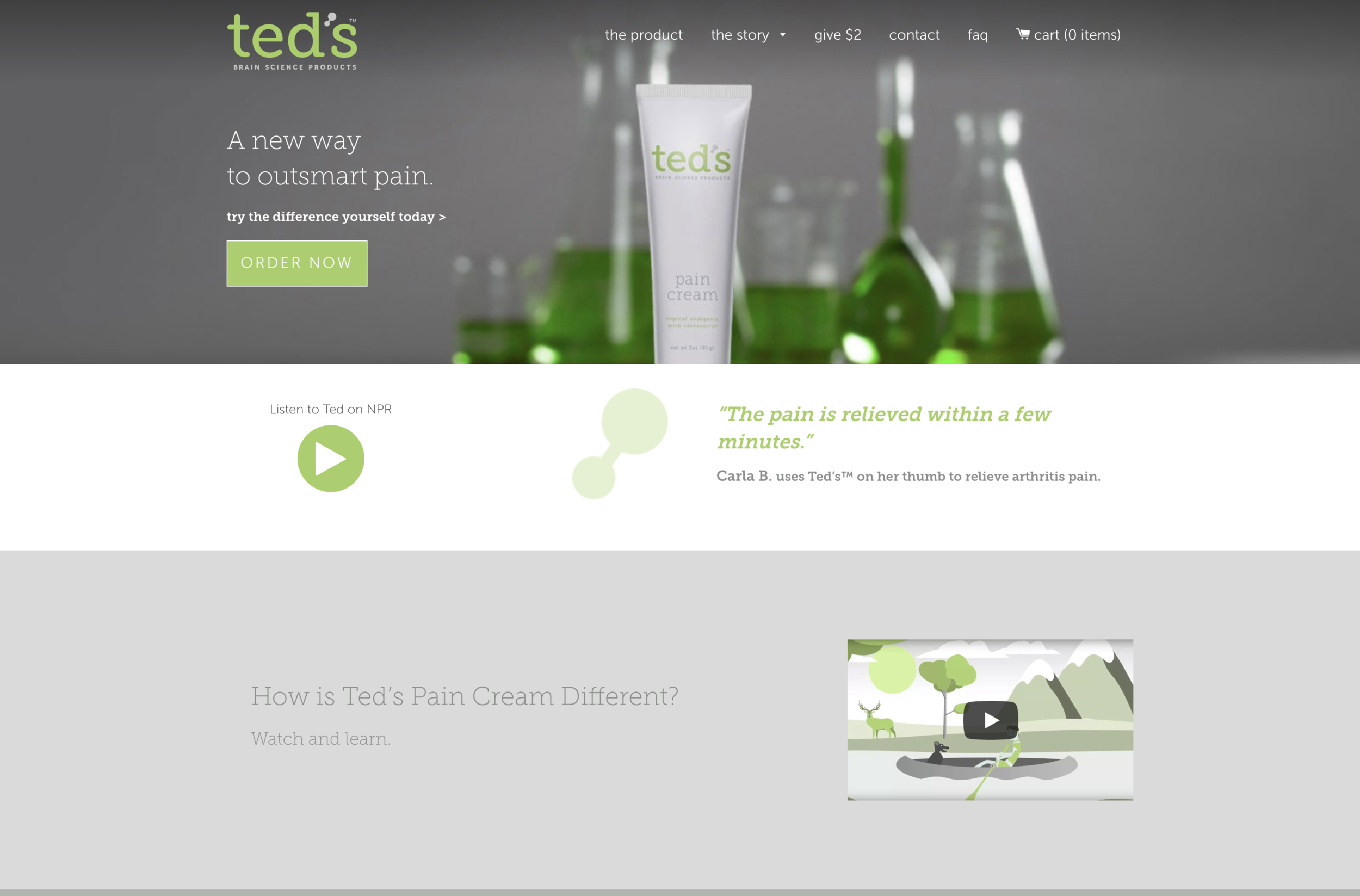 This is the original version of the homepage (primarily, above the fold). Here are the results observed for the control page:
Control: 283 visitors, 17 conversions (6.01% eCommerce Conversion Rate)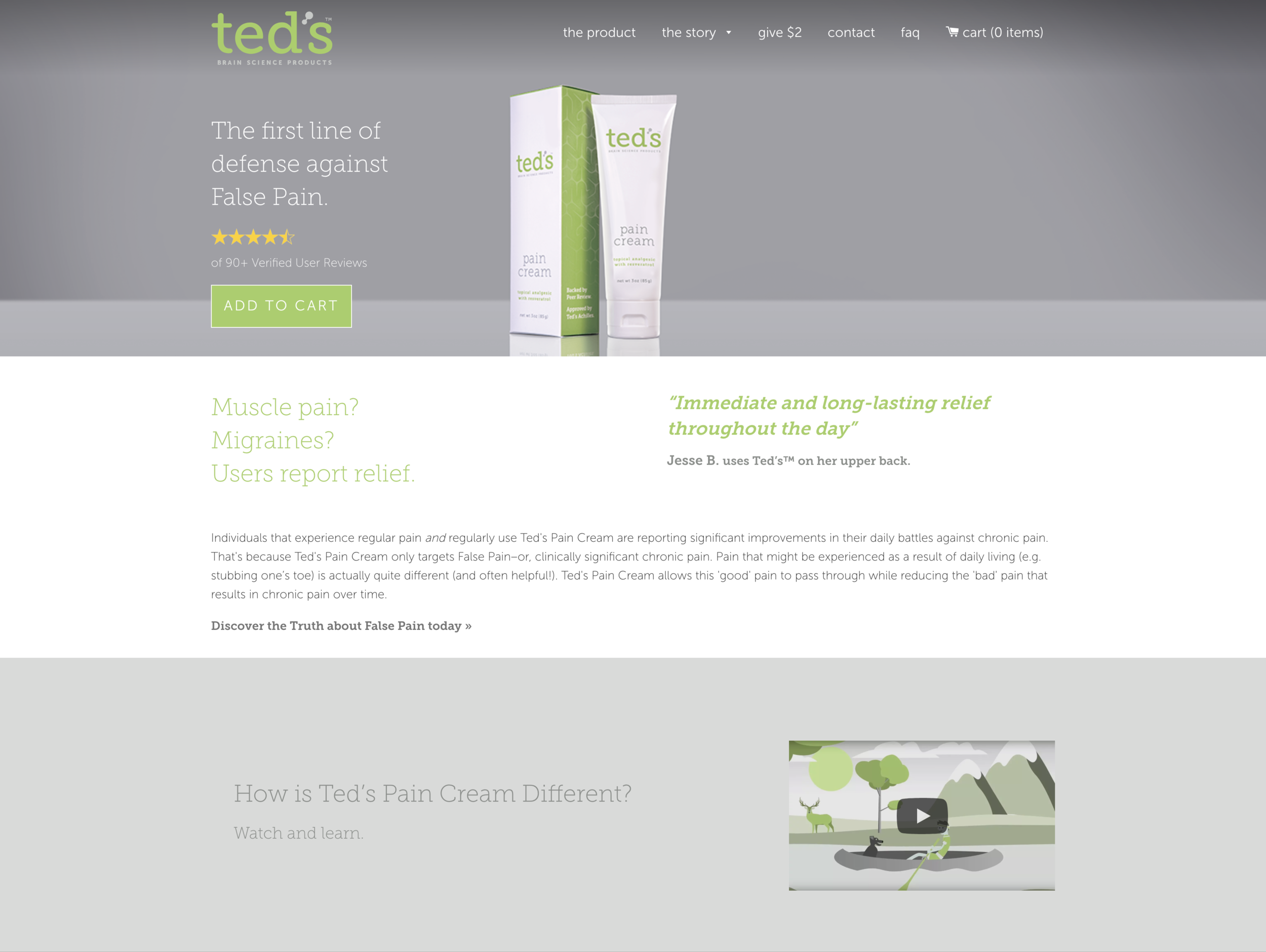 This is the treatment version of homepage. We updated the main headline to a 'The first line of Defense against False Pain' and added a 4.5 Star Review Image, with 'of 90+ Verified User Reviews' below it. Here are the results observed for the treatment page:
279 visitors, 29 conversions (10.39% eCommerce Conversion Rate)
RESULT: 73% INCREASE IN CONVERSION
Analysis:
This experiment quickly crossed the 95% confidence threshold, producing a valid lift in eCommerce conversion rate. There were a number of changes made to the treatment version, so it's worth taking time to consider each one separately.
First, we updated the banner image with a newer, lighter product image. Ted's Brain Science has started using this particular image in a lot of it's digital advertisements, so it's likely that the congruency between the ad-to-homepage experience increased. This increase would reduce anxiety for this visitor, as it would signal that the ad and landing page are consistent and interconnected. In other words, they can be sure that the ad they clicked led to the correct web page.
Second, we replaced the 'Order Now' button CTA with 'Add To Cart.' This has been shown time and time again to reduce anxiety and increase 'Add to Cart' Rate. Why? 'Order Now' is a high barrier for entry, and customers may feel that they're making a commitment by clicking that button. On the other hand, adding a product to a cart still leaves the buyer in control–with the ability to remove the product anytime they want.
Third, we included a 4.5 'Rated Stars' image to show the general approval rating of the product. This addition of 3rd-party validation decreases visitor anxiety by showing that many people have used this product and enjoyed it.
Fourth, we updated the main headline to say 'The first line of Defense Against False Pain.' This is a tagline that Ted's uses from time to time to describe the specific work their pain cream does. By honing in on the value proposition of the product, we can reduce ambiguity in our messaging and better align with the motivation of the visitor. If they haven't heard the term 'False Pain' before, they will encounter an explanation of it in the first paragraph below.
Fifth, we replaced the 'NPR' Audio Callout with a secondary headline: "Muscle Pain? Migraines? Users Report Relief." This headline addresses two of the major self-reported pains felt by Ted's users. Similarly, it reinforces the new headline above it, by showing what a defense against 'False Pain' looks like.
Finally, we included a description of 'False Pain' and a Call-to-Action to 'Discover the Truth...' about it that links to Ted's free eBook download. This helps establish Ted immediately as the authority on this subject, and it allows all visitors to leave with something valuable (without having to complete a transaction).
Concluding thoughts:
We're more likely to see a shift in conversion that will 'move the needle' if we test more significant changes. In other words, if we can afford to take a risk by changing up a number of elements on a page, we have the potential for big gains. We can, of course, hedge this risk by monitoring our results closely. But this test is a good example of how a homepage partial redesign can help improve performance.